Store le Point
Events
Competitions
Partners
ENTRETIEN. Le philosophe et auteur à succès livre au « Point » ses conseils pour en finir avec la « peur fondamentale de ne pas être à la hauteur ».
Reading time : 4 min
« C'est un livre contre les bons sentiments ! » Avec La méthode Foutez-vous la paix !, tome 2 de son best-seller Foutez-vous la paix ! 20 propositions pour retrouver la joie de vivre (400 000 exemplaires), à paraître ce mercredi 7 septembre chez Flammarion, Fabrice Midal propose une approche simple et des méthodes concrètes pour « cesser de se torturer » et « se libérer des mécanismes qui ruinent notre confiance et notre courage ». Ciblant les chantres du développement personnel qui « balaient les émotions négatives » jusqu'à « nous couper d'elles », le docteur en philosophie répond aux questions du Point et partage de premières pistes pour accepter d'être « imparfait »… 
Le Point : Qu'est-ce qui différencie votre essai des ouvrages de développement personnel que l'on trouve, en nombre, en librairie ?
Fabrice Midal : Je ne parle ni d'ésotérisme ni de vous relier avec les anges (rires) ! Plus sérieusement, je n'ai rien contre le développement personnel. Mais mener une « vie bonne » est une grande question philosophique, depuis Platon and Aristote, et n'est donc pas l'exclusivité des coachs en la matière. Aussi, je tente avec La méthode Foutez-vous la paix ! de sortir des bons sentiments et des injonctions intenables pour décrypter à quelles aliénations l'être humain se retrouve confronté. Celles qui l'empêchent de se sentir vivant, d'aimer et d'être à l'écoute des autres et de soi-même. Le dessein de cet essai est, avant tout, de donner à ses lecteurs des clés afin qu'ils y parviennent et cessent de s'instrumentaliser. Une injonction très à la mode, qui présente, en réalité, une conception extrêmement pauvre et indigne de soi-même… 
À LIRE AUSSI« Comprendre le monde et se rassurer » : la fascination des jeunes pour l'ésotérisme
Qu'entendez-vous par « s'instrumentaliser » ?
S'instrumentaliser, c'est potentialiser ses ressources – sa santé, ses compétences ou encore son capital séduction – pour accomplir au mieux les tâches qui nous incombent et ce que l'on attend de nous. De la même manière que le rapport d'instrumentalisation à la planète menace notre survie, cela peut tourner à l'obsession et virer à l'implosion (stress, épuisement, burn-out…). C'est une forme de violence et nombre de personnes en ont pris conscience à la faveur de l'épidémie. Mais les discours actuels ne fonctionnent pas, car les propositions, en la matière, sont insuffisantes sinon surréalistes. Des conseils comme « ralentissez », « lâchez prise », « détendez-vous »… ne peuvent absolument pas prétendre à enrayer ce cercle vicieux. Tous ces bons sentiments ne nous aident pas !
Que proposez-vous ?
Je propose d'abord d'identifier, à travers différents chapitres, ce qui nous empêche de vivre (« Je n'arrive pas à m'organiser », « Je ne dors pas bien », « Je me laisse facilement submerger par la colère », « Je vis sous pression »…), puis j'invite à changer de perspective. Il faut sortir de l'idée selon laquelle la volonté seule permet de mettre une décision en action (« Quand je veux, je peux »). C'est, aujourd'hui, le discours majoritaire du développement personnel, qui n'ajoute qu'une pression supplémentaire et s'avère, in fine, extrêmement culpabilisateur. Or, les personnes souffrant de burn-out, par exemple, n'ont pas besoin de s'entendre dire qu'elles gèrent mal leur stress ou hierarchisent mal leurs tâches alors qu'elles souffrent, précisément, du travers de « trop bien faire ». Ce essai invite donc à changer de régime : revenir à ce que l'on ressent pour comprendre que cette pression ne nous fait pas avancer, pire, s'avère délétère. J'invite, en somme, à se foutre la paix !
À LIRE AUSSIPourquoi lisons-nous des livres de développement personnel ?
En quoi cela consiste-t-il ? Et n'est-il pas plus facile à dire qu'à faire ?
C'est au contraire à la portée de chacun ! Mais il faut accepter de sortir de cette idée de contrôle total. Et de cette tyrannie du positif qui s'évertue à balayer les émotions dites « négatives », pour s'autoriser des sentiments comme le chagrin ou la colère. Cet essai a justement pour vocation de guider, pas à pas et à travers une série d'exercices d'inspiration analytique, le lecteur à identifier ce qui se cache derrière ses émotions, lui rappeler qu'il peut ne pas être « parfait » (calme, lisse, performant…) et surtout qu'il ne peut pas tout ! Cela n'est pas, en soi, révolutionnaire : les philosophes Nietzsche, Bergson ou encore Wittgenstein dénonçaient, avant moi, l'illusion d'un individu comme être autonome, capable de s'autodéterminer sans être à l'écoute de lui-même. L'enjeu, ici, est de sortir de la seule motivation de la performance…
Vous considérez donc que viser la performance est un mal ?
Non, mais je crois que nous avons un grand besoin de critique anthropologique en la matière. On voit bien avec la « grande démission » [démissions de masse intervenues aux États-Unis et dans une moindre mesure en France, depuis l'épidémie de Covid-19, NDLR] que le modèle d'une « vie bonne », qui consiste à potentialiser ses ressources jusqu'à s'oublier soi-même, comporte des limites… Attention toutefois, l'injonction « foutez-vous la paix ! » est le contraire d'une invitation à la démission. Elle n'encourage aucunement à claquer la porte de son travail, plutôt à rappeler que plus on se met la pression, moins on trouve en soi les ressources pour franchir les obstacles. En ce sens, cet essai vise plutôt à déjouer la pression qui inhibe la performance ou, en d'autres termes, à rouvrir la possibilité de travailler avec elle.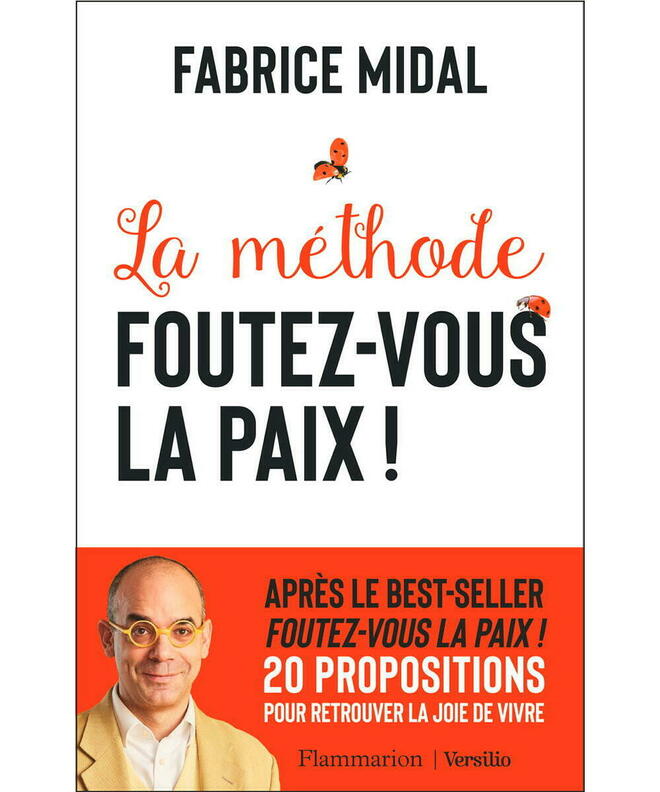 La méthode Foutez-vous la paix ! (Flammarion), Fabrice Midal, 16,90€
La rédaction du Point vous conseille
Report abusive content
Please enter the reason for your alert.
This field is mandatory
This field is mandatory
Wrong code
An opinion, a comment?
This service is reserved for subscribers
See the conditions of use
You must enter a nickname before you can comment on an article.
Quelle différence avec les coachs ? Il a la même prétention à rendre à l'individu son bonheur de vivre. La différence est sa démarche… industrielle, il écrit en espérant que le nombre de lecteurs amortira son investissement. Pas très moderne mais efficace si il a un peu de talent, de chance et d'entregent.
Il est toujours bon de rappeler qu'en d'assez nombreuses circonstances, "le mieux est l'ennemi du bien"…
The news in continuous
On the newsstand
Le palmarès des menteurs
Consult the articles in the section SociétéFollow the news in real time and access our news analysis.
Transgenres : questions d'identité.
Les disparues
Retrouver le goût de l'effort
Experience Le Point
The store
Subscriptions
Mobile applications
Our partners
We are OJD
Le Point forums
FAQ
Personal data protection policy
Manage my cookies
Tax credit
Language courses
Vouchers
PER Comparator
Transparency Portal
Video tutorial
Advertising
Contact us
Site Map
Legal information
CGU
GTC
Terms and conditions of a customer account
Moderation Charter
Archives
* Required fields
With a LePoint.fr account:
Create an account to access the digital version of the magazine and the entire contents of Le Point included in your offer.
To do so, please fill in
your subscriber number in the account creation settings.
Do you have a Facebook account?
Get connected faster
Do you have a Facebook account?
Create your account faster
Please enter the email address you used to create your LePoint.fr account
This article has been added to your favorites.
To support Le Point accept personalized advertising.
Already a subscriber? I identify myself